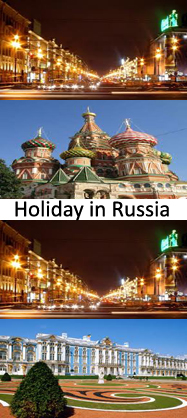 RUSSIA TRAVEL INFORMATION
A visit to Russia today is an encounter with an undiscovered land.
For centuries the world has wondered what to believe about Russia. The country has been reported variously as a land of unbelievable riches and indescribable poverty, cruel tyrants and great minds, generous hospitality and meddlesome bureaucracy, beautiful ballets and industrial monstrosities, pious faith and unbridled hedonism. These eternal Russian truths coexist in equally diverse landscapes of icy tundra and sun-kissed beaches, dense silver birch and fir forests and deep and mysterious lakes, snow-capped mountains and swaying grasslands – those famous steppes. Factor in ancient fortresses, luxurious palaces, swirly spired churches and lost-in-time wooden villages and you'll begin to see why Russia is simply amazing.
Created by Peter the Great in 1703 to be his "window to Europe", St Petersburg combines its fascinating Russian heritage with a distinctly European outlook. Considered the cultural heart of modern day Russia, St. Petersburg is rapidly regaining its reputation as one of the Great Cities of Europe. Within easy reach of the capitals of Europe and Scandinavia, St Petersburg now offers visitors luxury accomodation, expert destination management companies and international travel services.s